Kang Mi-rae (Im Soo-hyang) decides to get plastic surgery after years of being bullied because of her looks. Her "rebirth" seems successful at first, but as her life at the university unfolds, her plan starts to backfire. The pressure of being a "pretty girl" begins to get to her and, worse, those who can see through her surgery ridicule her and tag her as the "Gangnam plastic surgery monster." The drama follows Mi-rae's story of recovering self-esteem as she gets to know her classmate, and former schoolmate in middle school, Do Kyung-seok (Cha Eun-woo).
This is one of the most uplifting romcoms I've come across in a long time! Somedays you're just tired of all that melodrama and suspense and crave a fluffy and light hearted rom-com that makes you all giddy and happy. This drama was just that! It's perfectly well balanced with romance, comedy and a deep seated message about beauty.

My ID is Gangnam Beauty introduced me to all new actors. I've never seen a drama with them before and I was surprised at how much I loved them! Do Kyung Seok, the male lead in the drama played by Cha Eun Woo is actually a k-pop singer in real life. I assumed he would not be able to pull off skilled acting and I was wrong. Even though his acting wasn't the best out there compared to all the experienced ones, he does knock it out of the park for his first attempt as a male lead.
His acting portrays his character too well! He is shown to be aloof and uncaring of what everyone thinks about him. He's the hottest guy around but isn't popular because he doesn't like the pretentious nature of the people around him. While many girls throw themselves at him, he never entertains them and is somewhat of a loner. Until Kang Mi-Rae (Played by Im Soo-hyang).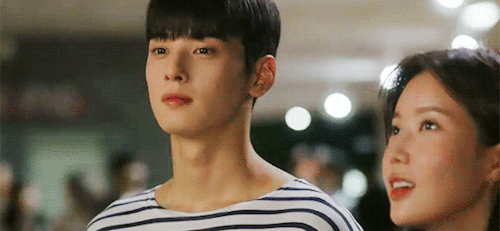 She is the complete opposite of him, she was considered to have monster like looks and always wanted to get along with her peers. The severe social stigma of being ugly and discarded, she gets plastic surgery done. Her life has shaped her in a way that she grades the physical appearance of people's faces and is insecure about herself. Contrary to Do kyung Seok, she seeks acceptance from her peers and wants to get along with everyone.

The female lead, while a new face to me is actually quite a talented and renowned actress. I must applaud her skills because dude...she's good! You feel her awkwardness and insecurity. Her character development is pretty good where she goes from an insecure, shy girl to a confident, kind and strong woman. Thankfully despite her shy personality she isn't a pushover. She stands up for herself and fights back.
The drama navigates through the lives of our leads during their first year in college and how they meet and help each other grow in life. I loved the chemistry between our leads. They are so cute!! I loved how they show the awkwardness, the simple moments that make your heart flutter and the struggles of dating as a broke college student. These two had me cracking up so many times! Its so swoony to see Do Kyung Seok always care about Kang Mi-Rae and stay on her side. How he's always been captivated by her and feels a pull towards her. How he always stands up for her and protects her.
There are plenty of side characters thrown into the mix. One of them playing a major role akin to a villain - Hyun Soo-Ah. She is a natural beauty just like Do Kyung Seok, but their similarities end there. While Do KYung Seok is unapologetically himself, Hyun Soo-Ah is a crowd pleaser. She wants to be the center of attention and to be surrounded by people who fawn over her. She cannot stand to have the spotlight stolen. She helps to bring drama and conflict to the plot which unintentionally drives our leads closer together.
There were a lot of things in this drama that had me impressed. For instance, they never show the face of young Kang Mi-Rae before surgery. To show her face would be raising a finger to what 'ugly' looks which would ruin the message this drama intends to portray - looks shouldn't be graded or deemed so important as to define a person. Nobody is ugly, everyone is beautiful in their own way.
Another interesting fact was how Kang Mi-Rae's t-shirts have feministic quotes that support the plot. While also dealing with appearances, this drama also sheds light on other issues faced by women in college and the mentality of the men in that age.
This drama is the best to uplift your spirits and gives you the definition of a romantic comedy with a deep message.
Im Soo-hyang as Kang Mi-rae
Kwak Dong-yeon as Yeon Woo-young
Cha Eun-woo as Do Kyung-seok
Min Do-hee as Oh Hyun-jung