Tempted (The Great Seducer)
A romantic melodrama that depicts the lives of young men and women who begin to discover their true feelings whilst playing the dangerous game of love. In an act of revenge, wealthy heir Kwon Shi-hyun (Woo Do-hwan) makes a bet with his friends to seduce Eun Tae-hee (Park Soo-young), a hardworking female college student who no longer believes in love after watching the demise of her parents' marriage. After Eun Tae-hee meets Kwon Shi-hyun her views on love begin to change. As Shi-hyun's secret deepens, his feelings for Tae-hee become real.
This is melodrama at its finest. Yes, I shall be using the words toxic, addictive, twisted and emotional to describe this drama. You ask why? Because even though this drama doesn't revolve around anything uplifting or bubbly, it's like one of those train wrecks you can't help but watch. I just can't get enough of it! I love the romance in this - the main couple have some serious chemistry!
Tempted is about the life of 3 filthy rich college friends who all suffer from family inflicted pains. The trio gang are:
Soo- Ji, the bad bitch who loves her friends
Shi-Yun, the mean but golden heart boy
Se-Ju, the ultimate playboy but loves Soo-Ji above all else.

These three are childhood best friends who've been with each other through the ups and downs of life. They love to play pranks on anyone who crosses them. One such prank starts off the main premise for this drama: Breaking the heart of an innocent girl to get revenge over the guy who humiliated and broke Soo-Ji's heart. The girl happens to be our heroine - Eun Tae-Hee. She's a super intelligent scholarship student in Architecture. She doesn't date and is wary of all men.
When Soo-Ji gets heartbroken and humiliated by a guy, she sets out to seek revenge. This guy happens to love one girl, Eun Tae-Hee, his first love. Once Soo-Ji finds out about this she plots her scheme. Shi-Yun would make Eun Tae-Hee fall for him and eventually dump her, breaking her heart. The melodrama then ensues as Shi-Yun slowly falls in love with Eun-Tae Hee for real and omgeeee they are so cuuute together!!!

The acting of everyone in this drama was on point. I especially loved the acting of Woo Do-Hwan who plays the part of Shi-Yun. He's hot - duh - but his facial ticks in certain scenes really make your heart skip a beat. Its like you can feel his inner turmoil and what he's secretly feeling inside with just a look. The chemistry he shares with Eun Tae-Hee is also a highlight! I started out hating him because of his mean attitude but my heart went all goo- goo for him by the end. Ya there were times when I wanted to enter the screen and seriously shake some sense into him and there were times when I wished I was the one hugging his tears away. I also loved how our heroine wasn't a weakling, she had a backbone. She stood up for herself and damn, that dagger eye look of her's is epic!!

There is a lot more I can say about this drama. It's not lacking in plot or plot twists. Definitely watch it if you're looking for something melodramatic and highly engrossing with a sprinkle of humor. Oh and also angsty love ;)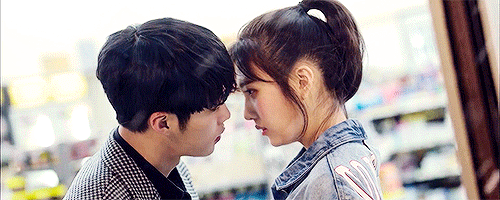 Woo Do-Hwan as Kwon Shi-Yun
Kim Min-Jae as Lee Se-Joo
Park Soo-Young as Eun Tae-Hee
Moon Ga-Young as Choi Soo-Ji